NDORSE AWARDS

Attitude of Gratitude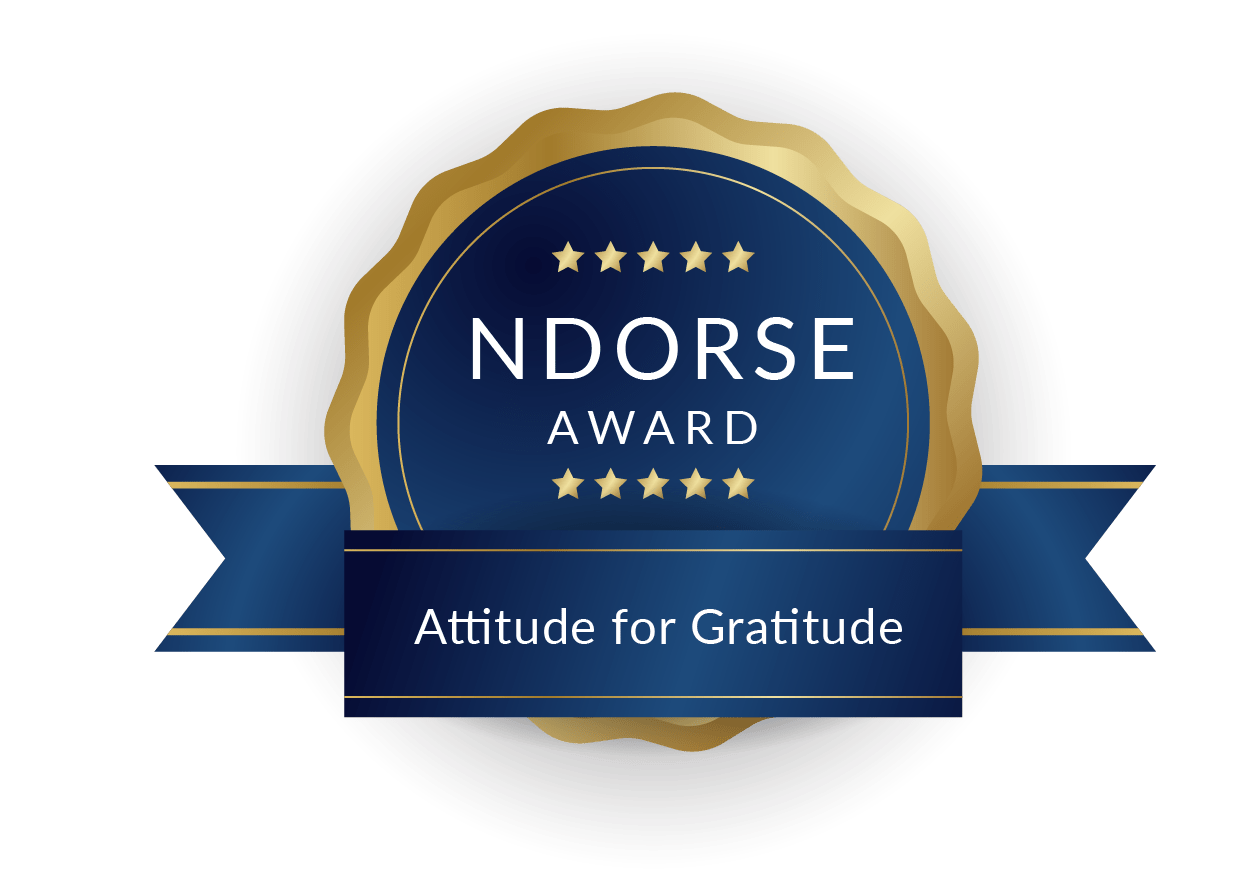 There are two awards for the Attitude Of Gratitude awarded each month for participating partner hospitals: The Top nDorser and the Difference Maker.
During this season of gratitude and giving, nDorse wanted to thank its partners for their commitment to recognition! We hope that users share in our gratitude by recognizing their colleagues for their daily contributions and dedication to their teams.
AWARD WINNERS FOR 2022
The Top nDorser award goes to the nDorse user who sends the most quality nDorsements.
Difference Maker: With so many people expressing their gratitude, this award gives all difference makers a chance to win. For every three (3) nDorsements sent, the user will earn one (1) entry into a raffle. Winner to be selected at the end of each month.
TERREBONNE GENERAL HEALTH
NOVEMBER 2022
Top nDorser:

Nancy Dupre | The Health & Rehab Center

Difference Maker:

Amy Boudreaux | Cancer Center
CYPRESS POINTE HOSPITAL
NOVEMBER 2022
Top nDorser:

Brad Pitarro | OR

Difference Maker:

Stephanie Chastain | Marketing
LIVINGSTON REGIONAL HOSPITAL
NOVEMBER 2022
Top nDorser:

Donna Ramsey | Dietary

Difference Maker:

Sonya Swallows | Education
---
HYNES ELEMENTARY
NOVEMBER 2022
Top nDorser:

Margo Johnson

Difference Maker:

Thomas Wright
ELAN ACADEMY
NOVEMBER 2022
Top nDorser:

Janell Owens

Difference Maker:

Will Willis
APPLETON AREA HEALTH
NOVEMBER 2022
Top nDorser:

Kris Payne | NH Nursing Admin

Difference Maker:

Angel Molden | Marketing
---
STILLWATER MEDICAL CENTER
NOVEMBER 2022
Top nDorser:

Amanda Cowan | Oncology

Difference Maker:

Jacqulyn Aguilar | Cardio Clinic
NEW ORLEANS EAST HOSPITAL
NOVEMBER 2022
Top nDorser:

Khanh Nguyen | Respiratory Therapy

Difference Maker:

Randall Bennett | Radiology Diagnostic
CHILDRENS HOSPITAL NEW ORLEANS
NOVEMBER 2022
Top nDorser:

Diana Diaz | 6TH FL Center

Difference Maker:

Emily Moran | Research Institute
---
EAST JEFFERSON GENERAL HOSPITAL
NOVEMBER 2022
Top nDorser:

Carol Wedig | 5th Floor East

Difference Maker:

Cathy Vaccaro | Radiation Therapy
UNIVERSITY MEDICAL CENTER NEW ORLEANS
NOVEMBER 2022
Top nDorser:

Julie Newman | Nursing Administration

Difference Maker:

Rochelle Johnson | Behavioral Health
LCMC HEALTH CORPORATION
NOVEMBER 2022
Top nDorser:

Christe Brewton | Rev Cycle Administration

Difference Maker:

Jacqueline Washington | Medical Records
---
TOURO INFIRMARY
NOVEMBER 2022
Top nDorser:

Mechelle Banks | Nursing Unit Senior Care T7

Difference Maker:

Jeanine Walters | Medicine M5
SALINE MEMORIAL HOSPITAL
NOVEMBER 2022
Top nDorser:

Paul Fowler | 783 - Ambulance

Difference Maker:

Sherry Jensen | 611 - 5th Floor